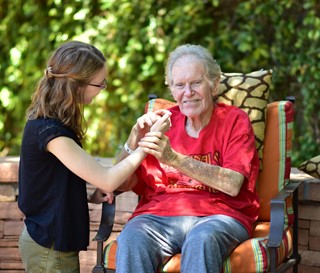 What is
dementia?
Dementia describes a category of diseases that cause memory and language loss, and changes in personality, behavior and judgment. Physical functions such as self-care, continence and mobility also decline.
The most common type of dementia is Alzheimer's disease, which affects about 5.4 million Americans. With the increasing number of older adults in our society, 16 million Americans could have the disease by 2050.
FOUR MOST COMMON DEMENTIAS
ALZHEIMER'S DISEASE
Accounts for 50-70% of all dementias. Typically, there is gradual memory loss followed by a continued decline in other areas of mental and physical functioning. Usually, there is difficulty managing everyday activities, followed by the inability to care for oneself. Verbal communication decreases over time, as does the ability to walk and control the bowel and bladder. The greatest risk factor for Alzheimer's disease is advanced age. 
LEWY BODY DEMENTIA
Shares symptoms of both Alzheimer's and Parkinson's disease. There is gradual and fluctuating mental alertness, along with physical symptoms of Parkinson's (such as a shuffling walk, slowed movement, muscle stiffness). Vivid visual hallucinations, brief periods of unconsciousness, repeated falls, sleep disturbance and sensitivity to some anti-psychotic medications may occur.
VASCULAR DEMENTIA
Often in combination with Alzheimer's, is a deterioration of mental function caused by reduced blood flow to the brain (strokes or narrowing of blood vessels). Although vascular dementia is not reversible, treating risk factors like high blood pressure can slow the disease. Progression. may appear much like Alzheimer's, although if strokes continue, sudden changes may be more evident.
FRONTOTEMPORAL DEMENTIA
Is characterized by two things: changes in behavior and problems with language. Initial symptoms often include uninhibited or inappropriate social behavior, which loved ones and caregivers may find very distressing. The person with frontotemporal dementia may appear apathetic, lose the ability to empathize, and lack insight. Spatial skills and memory remain relatively intact until advanced stages of the disease. Frontotemporal dementia typically occurs between the ages of 35 and 75, and family history is a risk factor.
HOW DO I KNOW IF IT'S DEMENTIA?
Diagnosis involves a careful history, review of symptoms, and thorough physical exam, including blood work, head scans and neuropsychological testing. This helps rule out treatable conditions that may cause memory impairment, like depression, medication side effects, thyroid conditions, problems with vision and hearing, excess use of alcohol and nutritional imbalances.
Clinicians specializing in memory disorders are now able to diagnose Alzheimer's disease with greater than 90% accuracy. Brain autopsy remains the only definitive way to confirm that someone had dementia. Arrangements for brain autopsy should be set up well in advance of the person's death. For further information, speak with your healthcare provider or social worker.
HOW IS DEMENTIA TREATED?
Treatment of dementia is limited, and currently, there is no cure. However, two classes of medications are approved to treat Alzheimer's disease. They may slow the course of disease by about six months in 33% of patients.
Cholinesterase inhibitors
Donepezil (Aricept)
Rivastigmine (Exelon)
Galantamine (Razadyne)
NMDA receptor antagonists
Currently includes one drug called memantine (Namenda).
HOW DOES DEMENTIA PROGRESS?
Progression varies according to the type of dementia.  Life expectancy can range from one to 30 years. For Alzheimer's disease, the average is six to eight years after first symptoms. Because dementia progresses through the brain, physical and mental functions are affected, such as thinking, memory, self-care abilities, continence and mobility.
People with advanced stage dementia usually lose the ability to communicate verbally, walk independently, control bladder and bowel function and participate in self-care. At this stage, hospice care can be beneficial for patient and family, focusing on comfort and quality of life. Infection, usually aspiration pneumonia, is the most common cause of death. 
UNDERSTANDING THE JOURNEY OF DEMENTIA
"Understanding the Journey of Dementia" is a free education program Hospice of the Valley offers to the community.
This program is so wonderful that I told a friend about it and she is using it too. They really understand what I'm going through and help me care for my husband. More than anything, I want to keep him at home.
–Christiane Cole
Before this program, I'd see him just wither and I'd think oh my gosh day by day, he's like a flower wilting. And now he's bloomed again.
–Anna Stapp
This program helps me know what to expect with my husband. Having someone who understands keeps me balanced and helps me laugh. I'm less frightened knowing someone is always there for me.
–Helen Korrick
Learn About Our Dementia Services
Recommended resources and reading
Hospice of the Valley recommends a variety of materials that can help navigate the path of providing care to a loved one or family member with dementia.